Part 2 of 3
As I wrote on the beginning of the previous post, I have an product idea. I have no idea where the idea came from, it just bumped into my head.  The reason why it is a software idea, I think Steven Alvey(The Warlord Viking) is the "guilty" one. I talked with him couple of weeks ago, and he told softwares are selling good. So he put the "seed" of a software idea in my head. At this moment I'm waiting for feedback from John Thornhill to see what he thinks, is there any idea to go further with it, or simply forget it.
How many times have you heard or read that everyone is expert on something and you should create a product around it, about what your passion is? Well, that can be true in many cases, but not always. I think I'm a living example of the fact there is not enough audience what I could write about. For me to create an own product, a course I'm passionate about, for example, is, and have been mission impossible.
I ended the last post by telling things changed. What I meant by that? Well, let's start from the very beginning. I don't even remember who referred me to the launch of Steven Alvey's Viking PLR Membership 2017 EM. I have subscribed to so many lists so it is impossible to find out. Just when I wrote that, I noticed it is quite easy to find it out. Just log in to JVZoo and check it! Hold on a second… it was… Dave Nicholson.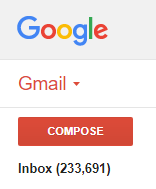 Like I told, I have subscribed into a ton of lists. Here you can see the amount of emails I have received. Basically I'm using this email account for lists I subscribed to.
I bought the Viking PLR Membership 2017 EM, and because Steven asked to contact him, he got what he ordered, my biography:). His approach to his customers has been different, more personal, comparing to many other marketers. I know the more customers he gets, customers who wants to interact with him, the more difficult it will be to keep all the pieces together. I hope he will not forget us "pioneers" in the long run:). If have something to ask, it is very cool to get in touch fast with Voxer. The webinars are also less formal than I have been used to. All in all, very welcoming difference to this business.